Many people may require a POE IP camera system in their houses for property protection and safety, deploying IP cameras may be the best choice. Cameras linked with POE switches are convenient for users to install and eliminate unnecessary cables. With the development of IP camera systems, more intelligent IP cameras will be used in home IP security systems.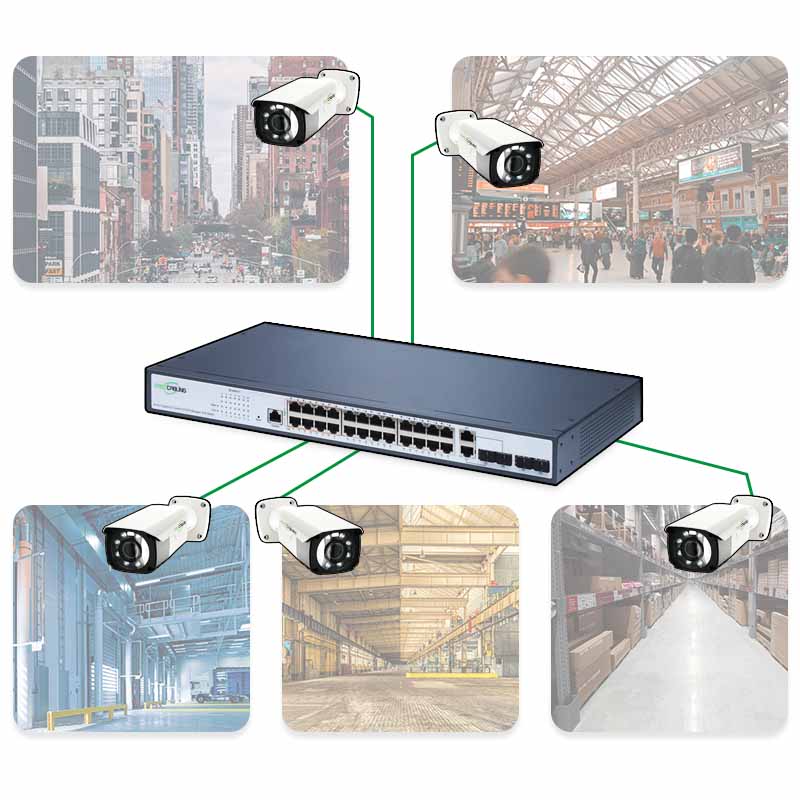 Undoubtedly, security is imperative for any business in modern society. IP camera security system offers an optimal solution to protect most businesses. Both a middle-sized company and a large-scale company need more than one IP camera for their IP camera security system. In this condition, the port number of POE switches is a good solution. a 24-port POE switch may be suitable for middle-sized networks, 48-port POE managed switches can meet requirements of large businesses like international hotels or enterprises.
How to Install A POE Camera?
If you are using a POE switch, regardless if it is a managed POE switch or an unmanaged POE switch, the easiest way to set up the POE camera is to simply connect it to the POE switch which will then provide the camera with data and power.
Why Use PoE Switch for IP Camera Systems?
When it comes to adopting PoE technology, some users may think it's unnecessary to buy a PoE switch with a relatively high price. Compared with traditional solutions, adopting POE switches in IP camera systems have countless advantages.
Connected with a POE switch, IP cameras can be installed anywhere, even to reach remote locations. With a single Cat5e cable, the distance of running POE IP camera can be up to 100m. If longer runs are required, POE repeaters may be needed.
A POE injector can also power IP cameras and save more space. However, what if there are many devices, say ten IP cameras, needing to be connected together? Under this condition, a POE switch that has more ports will provide the optimal choice.
POE switches can power devices in camera surveillance systems. Furthermore, the advanced POE+ switch that delivers more power can transmit up to 30W over Cat5 cables, compared with the average 15.4W offered by standard POE switches. As a result, the POE series switches can meet the demands for some power-hungry IP camera systems.
Easier to Manage With Troubleshooting Availability
Advanced POE switches allow each camera to be controlled remotely from any point in the IP camera systems. A managed POE switch can use a GUI interface to provide a topology view of the network and the devices connected to it, which functions in troubleshooting when a system goes down. Specifically speaking, each port on the POE switch can be programmed to send an automatic alert to the authorized users when a camera breaks down. After logging in, the user will identify which camera is broken and reboot it with the aid of the topology view. If the reboot doesn't work, the user can send a technician to repair it immediately. POE switches can help to speed up the troubleshooting and repair process and minimize the overall downtime.
Lower Expense & Less Time
Since administrators can monitor and manage the switches remotely, in most of the cases, they can reboot any non-responding POE IP camera without going to the camera's location, which saves both cost and effort.
How to use POE switch to build IP camera system?
Step 1: Get a POE Switch
Step 2: Connect your IP Cameras to the POE Switch
Step 3: Plug Your POE Switch into the Router
Step 4: Power on the POE Switch
Step 5: Add the Cameras to Your NVR
How to Select, Choose or Buy a POE Switch for IP cameras?
To choose a suitable, reliable and best POE switch for your IP security cameras, there are few factors you need to consider: POE standard, POE IP cameras' power consumption, POE switch maximal power supply, POE switch port number, cable length and etc.
Factor 1. POE IP Camera Power Consumption
A POE switch not only carries network connection but also supply power to Power over Ethernet (POE) IP cameras. However, IP cameras power consumption varies; some could draw up to 20 Watt such as PTZ IP cameras RLC-423 while others could consume as little as 3 or 4 Watt.
Therefore, a POE switch should be able to provide enough power for different types of IP camera via Cat 5 or Cat 6 cables.
There are mainly two types of power over Ethernet (POE) standards, theoretically, the POE standard (IEEE802.3af) could provide up to 15.4W of DC power on each port. In practice, only 12.95 W will be supplied to the IP cameras or other POE devices given the power loss that dissipates in the network cables.
Similarly, the POE+ standard (IEEE802.3at) can pump out up to 30 W per port while only 25.5W could transmit to Network-enabled devices in real time.
Choose a POE Switch that suits your surveillance needs and makes sure to double check your POE IP camera power consumption ether in the user manual or technical specification spreadsheet.
Factor 2. POE Switch Maximal Power Supply
Meanwhile, the maximal power supplies of your POE switch matters as well. If the maximal power supply of the all your cameras exceeds your POE switch power cap, then the POE switch won't provide enough power for all your POE IP cameras, pan-tilt-zoom (PTZ) IP cameras in particular.
Insufficient power supply to the IP cameras are the common culprits for video loss and IP camera poor performance.
That being said, when buying a POE switch for IP cameras, it's important to go for a POE switch with more power juice or reducing the number of PTZ IP cameras plugged into the POE switch as PTZ cameras draw more power than other IP cameras.
Factor 3. POE Switch Power Supply Voltage
Many security cameras run either 12V or 24V power, if not supplied with the proper power voltage, the IP camera either won't work or even be overloaded.
For example, 12V IP security camera is powered by a 24V power source or vice versa, the IP cameras would likely to be burnt out or fried. To provide the proper amount of power for the POE IP cameras, one of an important feature to look for in a POE switch for IP cameras is its abilities to automatically adjust voltage accordingly.
For example, a POE switch with 802.3af compatibility is able to accommodate the power input of your IP security cameras, for example, GS308P POE Switch comes with IEEE 802.3af compliant.
Factor4. POE Switch Port Number
If you are looking for POE switch for more than 4 cameras, it's important to check the port number, such as a POE switch with 8 ports, POE switch with 16 ports, POE switch with 24 ports, or POE switch with 48 ports.
While the port number largely depends on your actual need as well as the overall power consumption of your IP cameras.
For example, a 24-port POE switch with 370W power supply could power 24 IP cameras with IEEE802.3af standard (15.4W per port) while it could only power 12 IP cameras with IEEE802.3at standard (30W per port).
Factor 5. Gigabit POE Switch or Not
As mentioned before, a POE switch not only supply power to the IP cameras but also carries network connection.
A gigabit switch is getting an upper hand in comparison with a 10/100 Mbps switch because you do not want the switch to become the data bottleneck when you are powering 4 POE IP cameras in addition to other devices on the switch. (Learn whether IP security cameras slow down your home network)
Factor 6. Unmanaged or Managed POE Switch
The main differences between an unmanaged and managed POE switch lie in functionality, configurability, and of course, the price tag.
Unmanaged POE switch (cheaper) is a plug-and-play with no setup required while managed POE switch allows you to configure networking protocols, as features such as VLANs, IGMP Snooping or more.
For most homeowners, an unmanaged POE switch fits the budget and works to meet the needs for powering POE IP cameras.