"I'm going to install two IP cameras in my house. If the NVR already has PoE switch built in, just use that? Actually, I have no idea whether to use a PoE NVR or a PoE switch matching with them. So, what's the difference between them? Can some one help me?" This article intends to explore the differences between PoE NVR and PoE switch. Let's break down the differences and the pros and cons of each in details so that you can make an informed decision.

Power over Ethernet (POE) is a technology that lets network cables carry DC power. PoE connections offer greater flexibility in terms of where you can locate a device, because with a PoE connection, there is no need for the additional power cable. This reduces the complexity of installing in awkward locations.
You can find two kinds of PoE capable devices today: power sourcing equipment (PSE) and powered devices (PD). Sometimes a device functions as both a PSE and PD. Power over Ethernet (POE) technology sends 10/100/1000 Mbps of data and 15W, 30W, 60W, and up to 90W of power budget to devices over Cat5e and Cat6 Ethernet cables for a maximum distance of 100m.
PoE benefits organizations in 5 five primary ways — 1. reduced installation costs, 2. increased installation safety, 3. responsive deployments, 4.high performance data-gathering capabilities, and 5. productivity enhancements. POE has many applications, but the three key areas are: VoIP phones, IP cameras, Wireless access point.
What is PoE switch?
A switch is a device that allows devices on a network to communicate. A PoE switch has the Power over Ethernet functionality built into it, delivering power and data over the same cable for easy installation. It is a dedicated device that contains multiple Ethernet ports to provide power and network communications to IP devices. This allows a PoE switch to expand the reach of an NVR system because you can connect IP cameras to the PoE switch rather than the NVR. A PoE switch expands a network created by a router. Therefore, it must be connected directly to a router on the same network as your NVR. Most PoE switches have limited power, so you can only power smaller devices.
What is PoE NVR?
PoE NVR is a network video recorder with built-in PoE switch meant for use with PoE based IP cameras. Equipped with a PoE switch, the PoE NVR provides both power and network to the cameras via a single Ethernet cable. There is no need for an additional PoE switch, which will reduce the cost of equipment in theory. Simply run one CAT5e/6 cable from the camera to the NVR, and it will provide power to the camera while streaming video/audio/data all over one single cable.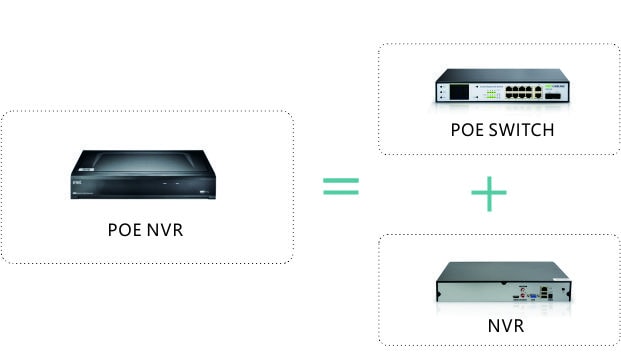 The Difference between PoE NVR and PoE switch
From the above, you will see that both PoE NVR and PoE switch can provide power and data transmission. However, the former is limited in minimal network administration experience while the latter can expend the network freely. With PoE NVR, all the cameras have directly wire back to the NVR as the PoE switch is integrated to recorder box which is good and not good. If the system is small such as 4-channel IP camera system, PoE NVR makes the setup quickly. However the flexibility gets worse while the cameras are increasing. With PoE switch, multiple cameras can connect to different switch before it return to the NVR. Thinking that a PoE switch needs to be placed anywhere near your NVR or router would be a mistake when there are many camera in the system. It makes the most sense to place your switch as close to the biggest cluster of cameras as possible. This can make for a lot of short cable runs from IP cameras to switch. From there, it's just a matter of running a single cable from that switch back to your router. The end result is that you simultaneously put all of your IP cameras on your network by running that one cable.
There's no way to conceal the fact that purchasing an NVR with a built in switch is going to be cheaper. A standard NVR purchased together with a dedicated PoE switch will probably cost you about 25% more than the alternative. If you still have a demand for the same type of "camera hardwired to NVR" setup and your NVR is out of warranty, you'll now find yourself needing to replace the entire NVR instead of the much cheaper network switch. The PoE switch is being integrated into the PoE NVR, if the PoE NVR go defective, the both NVR and the switch has to be replaced.
The PoE NVR is going to require that you run your cable the same way you would with an analog system. In this scenario, you're going to be running a cable for each camera all the way back to the NVR to create your hardwired connection. Your cable length is limited, in this case, to the standard 328 feet unless the PoE extender is being deployed.